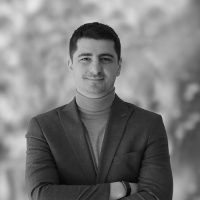 Vakhtang Chkareuli
BTU-ს ასოცირებული პროფესორი
Vakhtang Chkareuli is a Doctor of Economics, Associate Professor at Business and Technology University.
Vakhtang has rich work experience in both public and private sectors. He currently holds the position of Head of Finance and Analytics, Hualing Free Industrial Zone.
His main research areas are digital and circular transformation of the economy, as well as features of digital entrepreneurship and the introduction of circular business models in the private sector.
Vakhtang Chkareuli is the winner of various funding competitions of Shota Rustaveli National Science Foundation of Georgia.
He delivers the following courses at Business and Technology University: Financial Management; Financial accounting; Circular economics; Managerial Economics. Numerous master's theses have been prepared under his supervision.
Vakhtang Chkareuli collaborates with leading European and American higher education institutions – at various times participated in joint research and gave public lectures at the University of Louisiana (USA), the University of Granada (Spain), Rochester Institute of Technology (USA), Riga Business School (Latvia) and others.
He is fluent in Georgian (native), English and Russian languages.