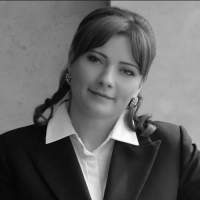 Khatuna Burkadze
Professor at BTU
Professor at BTU.
Khatuna Burkadze graduated from the Fletcher School of Law and Diplomacy at Taft University. She has successfully completed the Harvard University Negotiation and Leadership Training Programs at the George Marshall Center for European Security Studies. She is also a graduate of the United States Department of State in the field of American Foreign Policy.
Khatuna Burkadze has experience of working in both, academic field and practice experience. Her academic career began in 2009. Since then she has been delivering lectures on international law and diplomacy.
Khatuna Burkadze has experience of working in the academic field abroad as well. In particular, in 2017-2018 she worked as a visiting researcher at the International Research Center of the Massachusetts Institute of Technology under the Fulbright program, in 2015 he was a visiting professor at Bard College (New York, USA), and in 2014 – a visiting professor at Columbia University.
In addition to scientific-pedagogical activities, she works fruitfully in other fields as well. She is currently the Head of American Studies and Euro-Atlantic Integration at the analytical organization GeoCase. In 2019-2020, she was the Strategic Communications Coordinator of the Strategic Communications Service of the Office of the Prime Minister of Georgia. Moreover, has worked as Strategic Communiations Department Advisor of Ministry of Foreign Affairs of Georgia, Chief Specialist of analytical division "Information Center on NTO and European Union: of Supreme Court of Georgia, Leading Specialist of the European Integration Committee of the Parliament of Georgia, as Specialist of the Legal Service of Tbilisi City Hall. In 2013-2015, she led the European Commission-funded project "Promoting Well-Managed Migration between Georgia and the European Union".
The main areas of her research are: cybersecurity, digital transformation, digital governance, artificial intelligence and related legal aspects. Actively participates in local and international scientific conferences and symposia. His scientific papers are published in Georgian and English, quoted in Harvard National Security Journal.
In 2017-2018 she was a member of the Harvard International Law Society. He was also a member of the organizing committee of the 2018 European Conference at Harvard.
Speaks  English and Russian languages.