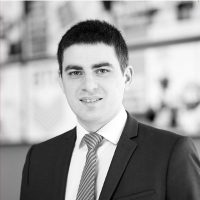 Vakhtang Charaia
BTU-ს ასოცირებული პროფესორი
Doctor of Economics Vakhtang Charaia is an Associate Professor at Business and Technology University. He has worked as a researcher in the world's leading scientific centers at various times, has experience working as an analyst in the fields of economics and business.
Vakhtang actively participates in international forums and conferences, where he has submitted up to 50 papers. Under his authorship and co-authorship, scientific papers are systematically published in both local and international scientific journals. He delivers lecturs on the principles of economics at Business and Technology University.
Vakhtang Charaia has been awarded the following prestigious awards at various times: 1. Georgian Academy of Sciences Award – "For Scientific Achievements in the Field of Economics" (2021); 2. Award of the Association of Security Researchers – "For the best Scientific Work" (2021); 3. Shota Rustaveli National Science Foundation Award – "Best Young Scientist of the Year in Social Sciences and Humanities" (2018); 4. Winner of the joint competition of the International Monetary Fund and the World Bank – "Young Researcher".
Speaks  English and Russian.