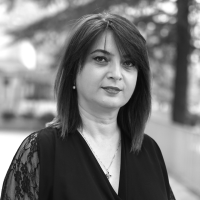 Maia Kheladze
BTU doctoral student
BTU doctoral student.
Maia Kheladze is a lecturer at Business and Technology University, holds a Master of Business Administration degree and has extensive work experience in various Georgian banks and financial organizations, where she has held leading positions for years.
Has implemented various important projects, including: Establishment and development of the Bank's own processing center; Integration of social projects with bank cards and full automation: social card project; "Healthy and Safe School" project – "Student Contactless Card"; Development of outsourcing services for processing services and inclusion of Agent Bank in the system in 2007; Establishing and developing a business line of cash terminals and more. She has been actively participating in conferences since 1995, including as a guest speaker. She has also passed a number of training courses.
At Business and Technology University, Maia delivers a banking course for bachelors and an e-commerce administration course for masters.
speaks Georgian (native), English and Russian languages.