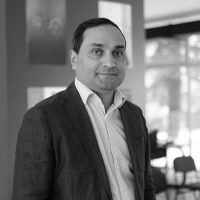 Zviad Gabisonia
Zviad Gabisonia, PhD, is a professor at Business and Technology University and Director of the Research Center.
Leads the doctoral program "Digital Governance and Artificial Intelligence in the Public Sector".
He has many years of rich experience working in the academic and public sectors. At various times he actively cooperated with such authoritative international organizations as GTZ, DAAD and others.
In addition, he is a participant and scholarship holder in a number of exchange programs, an expert in the implementation of e-government, a member of the Georgian Academy of Educational Sciences and others.
The main areas of research of Zviad Gabisonia are: Technology Law, Business Law, Banking Law and Private International Law. He has published 7 monographs in these areas and is the author of about 40 publications, as well as has prepared textbooks for students. He has participated in 21 scientific conferences both in Georgia and in leading Western research institutions and universities.
Speaks Georgian (native), English, German and Russian languages.