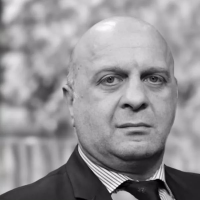 Andro Gotsiridze
BTU-ს ასოცირებული პროფესორი
Associate Professor at BTU.
Andria Gotsiridze is an Associate Professor at Business and Technology University. Has many years of experience working in both, academic and administrative positions in the field of cyber security. He has published scientific papers and books in Georgian and English. He co-authored a lecture course in Cybersecurity: A Generic Reference Curriculum in English.
Delivers a lecture course on the basics of cyber security strategy. Speaks in Georgian (native), Russian, German and English.