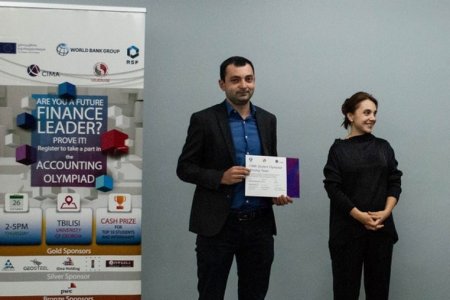 BTU Master's Degree Student Wins High Level Financial Olympiad in Georgia
A (A) IP National Accounting, Reporting and Auditing Reform Support Fund, in partnership with CIMA, organized the Student Olympiad in Financial Reporting, Taxation and Management Accounting 2019, the winner of which is a Master's Degree from the University of Business and Technology. The winner was awarded a cash prize of GEL 1,000. He will also undergo an internship at the international company PwC with a view to future employment.
According to the winner Mikheil Iakobidze, the aim of the project is to support students in this field, to strengthen their motivation, which is an incentive for them not to believe in the existing achievements and to be always looking for new things.
As Mikheil points out, the students have continuous support from the university, they are constantly provided with information about any international or local competitions. 
Student support is very important to us. Modern education does not only mean providing the necessary theoretical knowledge to the student. Practical experience and finding contacts to connect with needed people is essential. The student should not only be involved in university activities. It is necessary to provide the student with a qualified education. On the other hand, it is also necessary to help him to use this knowledge correctly. We provide students with as much information as possible about all the competitions, Olympiads, exchange programs or other activities that interest them. We are glad that often it is our students who become the winners.
The mentioned Olympiad, which was held for the first time in Georgia, was attended by students of 14 universities and vocational schools, both undergraduate and graduate. A total of 150 students applied to participate, and 30 of them passed the test in the form of an exam. According to Maia Melikidze, a member of the Academic Council of the University of Business and Technology, it is very important that students are given such an opportunity and it is not intended only for graduates.