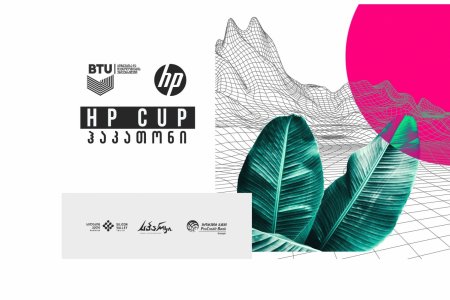 The winner of the HP CUP hackathon – RAD
HP CUP Annual Hackathon System ended with the victory of RAD.
RAD (Recognize, Analyze, Digitalize) – This is a system that uses artificial intelligence and flying machines to identify and analyze any object in sight. Using these data, he compiles statistics on various topics, according to pre-given assignments. For example, if an institution wants to know what part of the city and to what extent the carriageway is damaged, the RAD will analyze the area and provide detailed information and statistical analysis.
The creators of the system are 3 students of the University of Business and Technology: Elguja Lomsadze, Saba Sakvarelidze and Giorgi Vardania.
"Our team is staffed by people who have great knowledge and experience in their field. Therefore, the presentation we presented was not only technically sophisticated, but also took into account all the factors that accompany the startup in the initial phase. We presented a prototype to a qualified jury, which clearly showed the principle and purpose of the product. In addition, we provided detailed information on commercialization and business plan, "explained Elguja Lomsadze, one of the members of the winning team.
The winning team was awarded the HP CUP, which gave great motivation to each participant during the 2-day hackathon.
The entire team will be able to use the HP Workstation for further activities. An interesting prize was also the prize of Tbilisi City Hall business accelerator "Spark" – a 1-week trip to Estonia, where the winning team will accelerate and commercialize the product in the international market.
The decision to hold the annual HP CUP Hackathon at the University of Business and Technology at the University of Business and Technology at HP Jean-Marc Olivier, Regional Director for Vertical Industrial Solutions for Central and Eastern Europe, the Middle East and Africa, and Marcus Schwerzel, Head of Government Relations And received during a visit to the University of Technology.
This year's theme of the hackathon was the creation of visual data related to the environment – 3D models and games, animation, infographics, virtual and augmented reality, interactive maps and other solutions that the participants worked on for 2 days. The best teams selected from all over Georgia were able to participate, using the latest generation workstations of HP Z8, Z4 and virtual reality devices in the Silicon Valley Tbilisi HP LAB to develop their ideas.
The official partner of Hackathon was ProCredit Bank. Within the framework of the hackathon, the bank's energy efficiency expert Levan Khmiadashvili conducted a workshop on the topic: Eco Mobility. The team "Rero" became the favorite of ProCredit Bank. As part of Eco Security, the team has developed a mobile app that integrates a cognitive blog, news information platform, and fun activity.