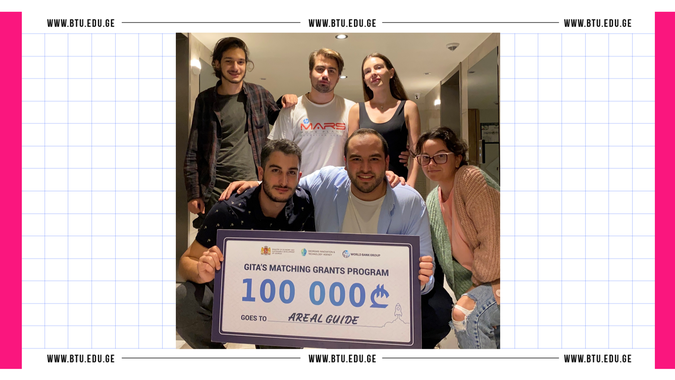 BTU Student Startup has received GEL 100,000 in funding from GITA
Areal Guide is a digital guide marketing platform for museums. Through the startup, museums can create a guide tour at 1 day intervals, which can be sold through the app. Customers will be able to choose a tour of any museum and use their smartphones to get the service that was previously available with special devices.
"As for future plans, at the first stage, the team will start the development process, after which we will try to validate this product in as many museums as possible and create a more comfortable experience for museums and visitors. The grant will give us many opportunities, both financially and in the process of technological refinement, to test several modules to move forward and refine the product,"said Rezi Parulava, co-founder of Areal Guide;
The startup was formed on the basis of BTU 4 years ago.
BTU students and graduates in the startup team: Rezi Farulava, Merab Laliashvili, Mariam Beraia, Anastasia Abakelia.
For 4 years, the startup participated in the pre-acceleration program of BTU and the European Fund for Southeast Europe (EFSE) in the British Council project Creative Spark Acceleration, became the winner of the Idea Fest competition, and is in the final of the TBC Apps Competition in the Big Idea Challenge of the international startup competition.