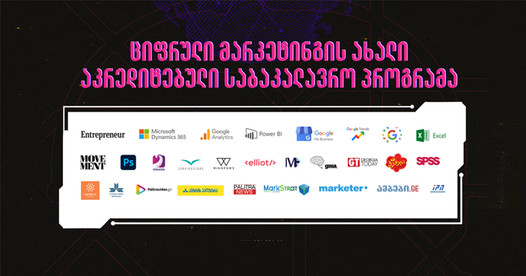 Digital Marketing – Newly Accredited Undergraduate Program at BTU
Categories

News

Date

September 22, 2021
For those who want to study digital marketing, this is a very important news in the Georgian educational market. The University of Business and Technology (BTU) , which is in its fifth year, offers students the outstanding and latest curricula, launching an accredited undergraduate program in digital marketing from the new academic year  .
"Digital marketer is one of the most demanded professions. The fast growing digital marketing market needs people who know marketing, branding, advertising, can think creatively and creatively, know graphic design and other visual communication tools, at the same time, possess the latest technologies, can make data-based analytical and analytical marketing decisions. ".
This is the main goal of the program, the adoption of which will be announced in 2022. Within the program, the student will intensively learn the various digital solutions that the marketer needs in the modern world: Google products, Microsoft products such as 365, Power BI, etc., Salesforce, CRM software, Adobe products, Markstrat, social media platforms, etc. .ش. Students will have the opportunity to take an additional (Minor) program in the field where they also want to deepen their knowledge – information technology, finance or anything else .
Partnership with Georgian digital marketing agencies and various international organizations is important within the program. A cooperation agreement has already been reached with the leading companies, all students of the program, in the field of digital marketing, will be employed during their studies .
The list of positions that a student or graduate can work in is diverse: Marketer, Digital Marketer, Brand Manager, Advertising Manager, Account Manager, Sales Manager, etc. Potential graduate employers can be marketing and creative project development agencies, media holdings, marketing research and marketing consulting companies, banks, investment companies, and any other organization with a marketing department.
Students enrolled in the course are offered the opportunity by many of Europe's leading universities to participate in fully funded, exchange-based programs and to acquire knowledge of the Western standards that set them apart from the rest of the world.
Detailed information about the program can be found at the link .