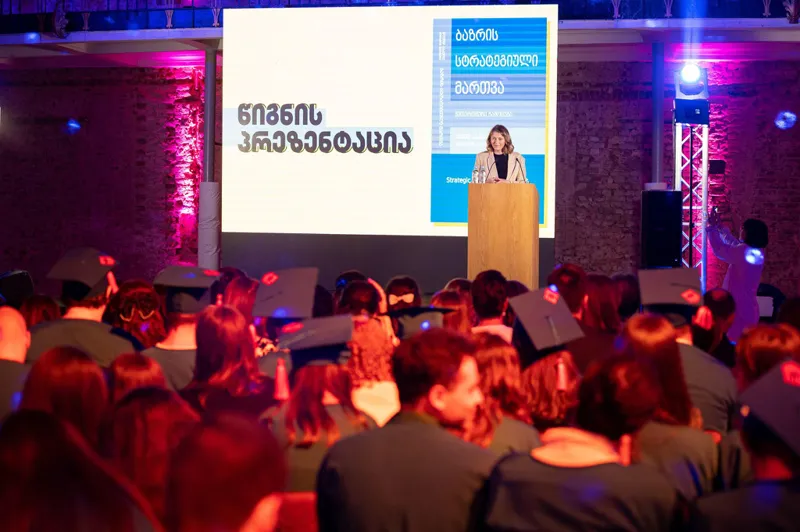 "Strategic Market Management" – BTU published another world bestseller in Georgian
Categories

News

Date

September 26, 2023
On the initiative of the Business and Technology University and with the support of the US Embassy in Georgia, the world bestseller in business literature, "Strategic Market Management" was published. The bestseller by David Aaker and Kristin Murman has already been printed in Georgian and will go on sale in the near future.
The publication has already been translated into 21 languages and is used in more than 200 countries by startups, budding entrepreneurs, highly rated universities, business accelerators and incubators. It was published in Georgian as part of the "Blue Ocean" business literature series.
"Strategic Market Management" will become part of the marketing syllabus within the BTU master's program.
As the rector of Business and Technology University, Nino Enukidze, pointed out, this is the manual used by the world's leading business schools.
"It is especially important for us that another new world bestseller from business literature has been translated and published in Georgian. It was published with the support of the US Embassy in Georgia. This is the book taught by the world's leading business schools. We hope that the mentioned manual will become an important addition to the Georgian-language library fund. The book will be distributed both in university libraries and in the chain of stores and will be available to any interested person", said Nino Enukidze.
The presentation of the book was held at the event celebrating the 7th anniversary of the university. Savvy managing partner Mariam Koyava presented the edition to the invited guests. He said that in today's very fast changing environment, "Strategic Market Management" is an important material for students.
The book is about dealing effectively with market strategies. It helps managers identify, implement, prioritize and adapt business strategies to dynamic markets. The publication provides decision-makers with specific methods and steps to improve the quality of strategic decision-making.
This is the 11th edition of the book, which provides students with courses in strategic marketing, policy, planning, and entrepreneurship to develop essential knowledge and skills to successfully meet market challenges. Current topics include strategic analysis, innovation, working across business units, and achieving sustainable advantage.
The BTU team worked on the translation of the book for a year. Business and Technology University, with the support of the US Embassy in Georgia, is actively working on the adaptation of English-language business literature into the Georgian language.