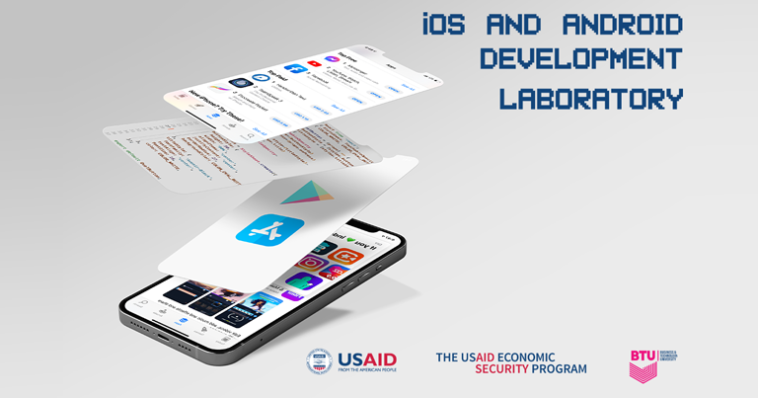 With the support of USAID Economic Security Program, BTU opened Android and iOS lab
Categories

News

Date

September 15, 2021
As part of USAID's Economic Security Program, an Android & iOS lab has opened at the Business and technology university. In this space, with the funding and support of the USAID Georgia Economic Security Program, 6-month free training courses in iOS and Android has started on September, 13
The course includes both, theoretical and practical training and, if desired, international certification in the relevant field (iOS / Android):
As a result of taking Android course, students will know:
1. Work in the Android studio environment.
2. Thorough knowledge of the Kotlin programming language.
3. Build Android apps.
4. Testing applications on appropriate devices.
5. Place the application on the Play Store.
As a result of taking iOS course, students will know:
Working in the Xcode IDE
Deep knowledge of the Swift programming language
Create apps for iPhone and iPad
Testing Apps on Appropriate Devices
App placement in the App Store
Through these courses at BTU, students will learn the basic features of iOS / Android programming in order to be able to define their own application and solution architecture, set challenges, and explore / identify the resources needed to solve it. Students will also be able to create small and medium-sized applications that will implement practical exercises with different logic.
The goal of the project is to popularize iOS / Android systems in Georgia, improve the skills of developers in this area and promote employment in local and international markets..