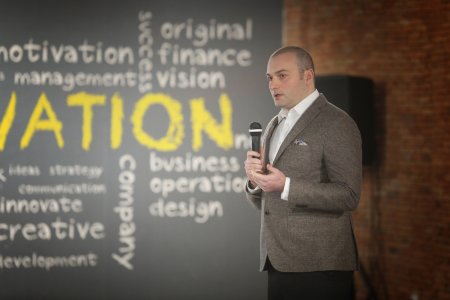 Mamuka Bakhtadze and Mikheil Batiashvili Held a Presentation On the Digital Silk Road Project
Categories

News

Date

March 16, 2018
Mamuka Bakhtadze, Minister of Finance of Georgia and Mikheil Batiashvili, rector of the Business and Technology University held a presentation on the "Digital Silk Road" project.
Georgia has started to work on a very important project, which envisages harmonizing the Silk Road to Digital Market. The aim of the project is that Georgia, as a country located in epicenter of modern silk road, to accelerate the development of the country in a digital direction in order to become the region's leader and main player in the field of trade electronic technologies.
The existence of a silk road unified digital market ensures free movement of digital goods, services and capital, increases economic activity and creates new startups and laboratories. It will also create additional jobs and promote implementation of innovative technologies.
In the near future, to implement the project, an international technological consortium will be created with the participation of leading technological companies and creation of a regional technological platform, that will connect countries participating in the project, will start.
For transition to modern digital technologies and highly competitive, knowledge-based economics it's important to increase the involvement of younger generation and maximize the use of human capital and local resources. The Digital Silk Road Project will facilitate to make this innovative idea interesting for employees, professionals, students and startups that work in ​​computer sciences and IT field and business sector.
The "Digital Silk Road" project includes the implementation of the technological platforms, which in turn implies the use of technological opportunities between the countries participating in the project, technological development, use of digital technologies in trade, exchange of different technologies, utilize technological data of cargo movement.