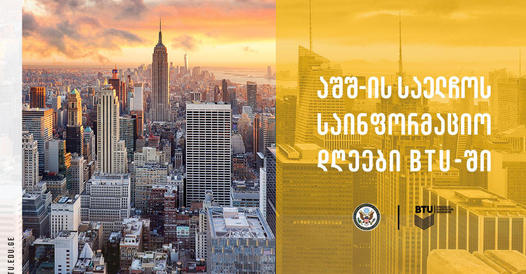 BTU announces information days in partnership with the US Embassy
Categories

News

Date

October 29, 2021
Educational programs, research and innovation projects, institutional development projects, coding school for women, creation and publication of educational materials, student and academic exchange programs- this is the list of projects and activities in which BTU collaborates with the United States.
List of BTU and us embassy joint projects: MIT Global Startup Lab – the world's first advanced acceleration program in Georgia to strengthen the startup ecosystem. Publication of the Georgian version of the Guide to Entrepreneurship, US Embassy-sponsored School of Women Coding and Increasing and Expanding the Representation of Women in Technology; etc.
In addition to joint projects, BTU annually hosts large-scale information days of the US Embassy for students and teachers.
Session for Staff: November 2
Session for Students: December 7
Guest of honor: Chris Anderson, US Embassy Cultural Attaché
Speakers: Tea Kuchukhidze and Irakli Malania US Embassy Public Sector
Target audience: faculty, undergraduate and graduate students.