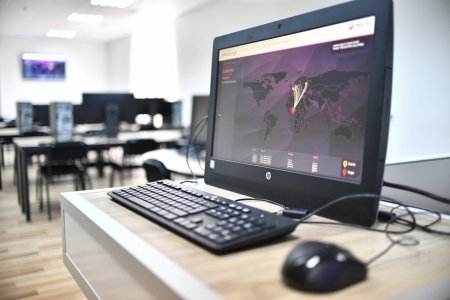 Cyber Security Lab
Categories

Labs

Date

September 3, 2021
The cyber security laboratory has existed at Business and Technology University since 2017.
Within the framework of the lab, informational resources are created, and educational activities are carried out: training, forums, contests, research, retraining programs, and hackathons – for students, schoolchildren, and beneficiaries.
Activities carried out within the framework of Cyber security LAB:
BTU

"initiative 5.0"

in cyber security direction and in cooperation with the EU has been launched throughout Georgia
EU cyber security education support –

PEU-C-E
EU for energy security and sustainable development policy –

EU- Energy-SSDP
Workshops

on cyber-hygiene and cyber security for children, parents, and teachers
Creation of an innovative phishing detection platform – "Hyperion."
Webinar:

using cyberspace in modern conflicts
Raising the level of cyber-hygiene, media, and digital literacy, carried out

sessions

in partnership with the Communications Commission.
Workshop:

startup cyber security – threats, mistakes, guideline
BTU project

to increase digital literacy among children in Georgia
Conference– Perspectives on Human Behavior in the Cyber-dominated Environment
Cyber hygiene for kids–

DOGGO

hackathon for BTU students and schoolchildren
International Campaign - Safer Internet day
Conducted Researches and materials