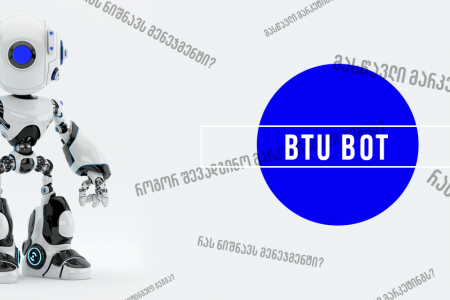 Artificial Intelligence Has Been Integrated to Education
Categories

News

Date

August 13, 2017
Lecture Assistant Bot – innovation that was created by the specialists of Business and Technology University is integrating in study process.
Creation a bot and its integration in education is part of a project of artificial intelligence by the Business and Technology University, which will gradually develop with the partnership and technical support from HP.
The bot is able to independently consult the student, teach the course quickly, solve case study, answer the questions asked 24/7 hours and communicate. The bot creators took into consideration all the important details and customized it to the student's study requirements. The modern approach in the study process will simplify the students' teaching and will make their communication with the lecturer technological and innovative. BTU BOT is already ready to teach marketing management and management and consult interested persons. The bot will develop gradually and will study every functional issue and topic of business administration and information technologies and will become participant and facilitator of the study process.
During working on artificial intelligence project, amount of information processed by BTU BOT will increase and processes will be automated, systemized and developed, function of making decisions considering the data will be optimized and perfected.