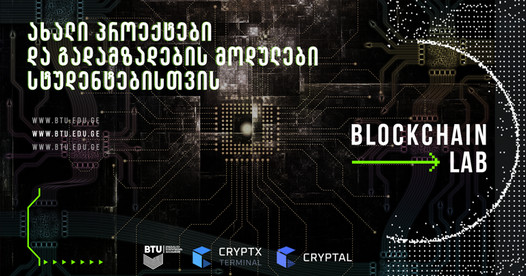 BTU Blockchain Lab launches partnerships and projects with CryptX and its international exchange group Cryptal
Categories

News

Date

December 8, 2021
Trainings and seminars on blockchain, cryptocurrencies, decentralized systems and other issues, student hackathons and competitions, industry research and international panel discussions are a short list of joint events that will start in December.

Hackathons with the participation of students, professors and industry mentors are planned in two areas: software development – information technology students and finance – BTU finance students. These hackathons will include workshops and trainings, mentoring sessions, etc. Winners will be awarded special prizes and / or job placement / internship programs 
CryptX is a fintech company that brings together several portfolio companies and operates in the cryptocurrency and blockchain industry.
 
Among them is international cryptocurrency exchange  company Cryptal, which was created in Georgia and has been actively serving the countries of our region since 2020.
 
The second group of companies, which has been operating since 2021 and has users from more than 50 countries around the world, is CryptX Terminal. Notably, the project has won a GITA grant of 650,000 people and has received both local and foreign investment.
 
"Raising awareness of blockchain technology and cryptocurrencies is a stated goal for both, for me and for Cryptal. I am delighted that in cooperation with BTU we will take important steps to achieve this goal, "said Cryptal CEO Khvicha Kopinadze.
 
"I am pleased with the cooperation between BTU Blockchain Lab and CryptX, which is very important for the development and understanding of the cryptocurrency and blockchain ecosystem both, in Georgia and in our region as a whole. BTU has always stood out for its support for modern technologies, as evidenced by this initiative, in which we are pleased to participate. "- said the CEO of CryptX Terminal Georgy Gvazava.

It is important for the Business and Technology University to raise awareness and interest in our ecosystem for the latest technology trends. The innovative projects offered to students will help them in further employment and career growth.