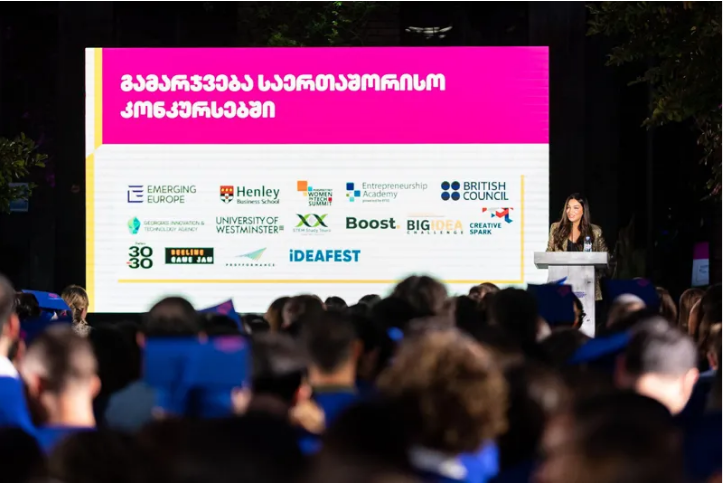 Business and Technology University is 6 Years old
Categories

News

Date

October 5, 2022
Business and Technology University is 6 years old.   Both the BTU anniversary celebration and the graduates' graduation ceremony were held at the "Rooms Hotel". Deputy Minister of Education and Science of Georgia Nunu Mickevichi, Head of the Public Affairs Department of the US Embassy Alexander Daniels, Representative of the UN Women's Organization in Georgia Kaori Ishikawa, Executive Director of the Adjara Group Oto Berishvili, and BTU's highest-ranking graduate Anjelika Arutinov gave speeches at the event.
Business and Technology University was founded in 2016. Since then, eight authorized bachelor's, master's, and doctorate degrees have been developed by the institution. The following training courses have received accreditation from prestigious international bodies. Among these, BTU's graduate-level DevOps program is accredited by the Amazon Web Service Academy, and its undergraduate finance program is approved by the ACCA. The first Ph.D. program in the area the subject of artificial intelligence is being offered by BTU this year as part of its inaugural doctoral program in artificial intelligence and digital governance. The United Nations Center for Artificial Intelligence and Robotics assistance is needed to start implementing the initiative.
74 top institutions and organizations from around the world work with BTU. There are 110 exchange programs in all. BTU joined the Massachusetts Institute of Technology (MIT) innovation network (MIT – Martin Trust Center) for the fourth time, making it the only institution in the area to do so. Additionally, the university joined the Harvard MOC affiliate network.
The opening of the premier American university's Webster branch and campus on the foundation of BTU is 2022's major accomplishment.
There are 7429 students enrolled at BTU. It's also important to note that over the past two years, the university's open positions have been filled entirely.
82% of University graduates are employed. BTU actively assists graduates and students in this process. In the area of employment, the university collaborates with more than 150 national and international organizations. Graduates can also take use of the university's programs for continuing education, career development center assistance, participation in foreign projects, and entrepreneurship center assistance when starting their own businesses.
BTU is actively trying to improve the country's entrepreneurial ecosystem and the status of women in technology and entrepreneurship. The institution has carried out significant initiatives for this goal, including 500 Women in Tech, a training program for female agro-entrepreneurs, a coding school for women, and others.
The support of research is one of BTU's top priorities. The university conducts research in the following areas: artificial intelligence, technology, innovations, the digital economy, governance, and the economy. BTU runs international conferences, gives out publications, and established an annual award to support scientific research.