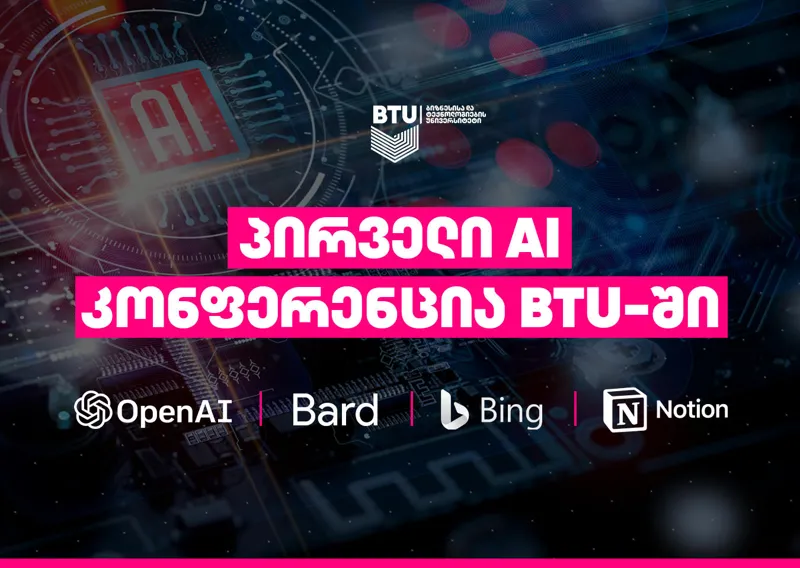 The first fully automated AI conference in Georgia
Categories

News

Date

July 5, 2023
With the participation of AI, the first conference in Georgia will be held in BTU. The theme of the conference is "The impact of artificial intelligence on the labor market". There will also be a discussion. The issue will be evaluated by the world's most advanced AI solutions created by various technology companies.
Content generated by OpenAI's ChatGPT, Google Bard, Microsoft Bing and NotionAI around AI, labor market challenges, training/retraining, ethics and many other related issues will be shared in the form of reports and research papers for conference participants. .
Within the framework of the conference, the artificial intelligences of the mentioned organizations will evaluate the mentioned issues.
The goal of the conference is to raise awareness of the challenges associated with the development of artificial intelligence, while the project provides an opportunity for interested parties to compare different AI products and to critically analyze the material shared and heard.
During the conference, reports and research products will be presented around the following issues:
Labor market and automation (Job Displacement and Automation);
Upskilling and Reskilling Needs;
Changes in Job Roles and Organizational Structures;
The Ethics of AI in the Workplace;
Remote work and artificial intelligence (Remote Work and AI).
It will be possible to listen to the first fully automated AI conference in Georgia on the Business and Technology University's website: https://btu.edu.ge/ai/podkastebi/