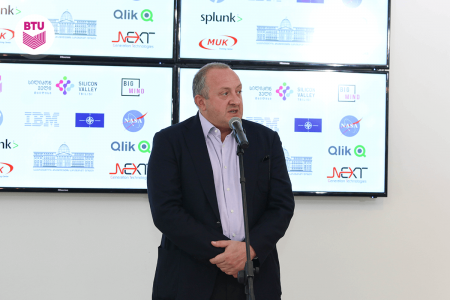 Silicon Valley Tbilisi Working Space is Opening!
Categories

News

Date

September 21, 2017
Silicon Valley Tbilisi work space is opening!
Equipped with newest digital technologies, along with mega-corporations, students have opportunity to work on projects that are interesting for them:
Virtual and expanded reality, Internet of Things, artificial intelligence, cybersecurity, mega data processing.
The space will officially be opened from 13:00 and will host student in every two hours, at 13:00, 15:00 and 17:00.
At 19:00, presentation for masters will be held. Besides partner companies and projects, the work space opening event will present informative stands for students and new entrants.
Within the global project of Space Exploration, this space will be equipped with unique technologies by NASA and HP Inc. Georgian and NASA's specialist will work jointly using these technologies.
Internet of Things in the work space of Silicon Valley Tbilisi! Technological Giant – IBM will implement future standard of living and working along with BTU.
Get more information about virtual capabilities developed by daily items and internet interconnections in Silicon Valley Tbilisi work space from September 21.
BIG DATA Laboratory will conduct software programming to search, monitor and analyze mega-data along with multinational corporation "Splunk" established in Silicon Valley US in Silicon Valley Tbilisi
Business and Technology University moves on new stage of development, along with more than 100 partner companies, including: Microsoft, HP, Google and Apple Study Programs, IBM, Oracle, Symantec, Checkpiont, Splunk, Qlik, etc.
The aim of the work space will be the development of projects of "Silicon Valley Tbilisi". World's leading companies will work together with students on such high-tech projects as: mobile applications, artificial intelligence, "Big Data", virtual reality, etc.
In the new working space, international partner companies will continue to work on current projects as well as create new start-ups that will be intended for global markets. According to Mikheil Batiashvili, rector of Business and Technology University, creation of the new work space in "Silicon Valley Tbilisi" will facilitate development of innovative projects as well as students' education in the direction of the latest technologies and youth will be opportunity to establish new business. The new work space "Silicon Valley Tbilisi" will start functioning from September.