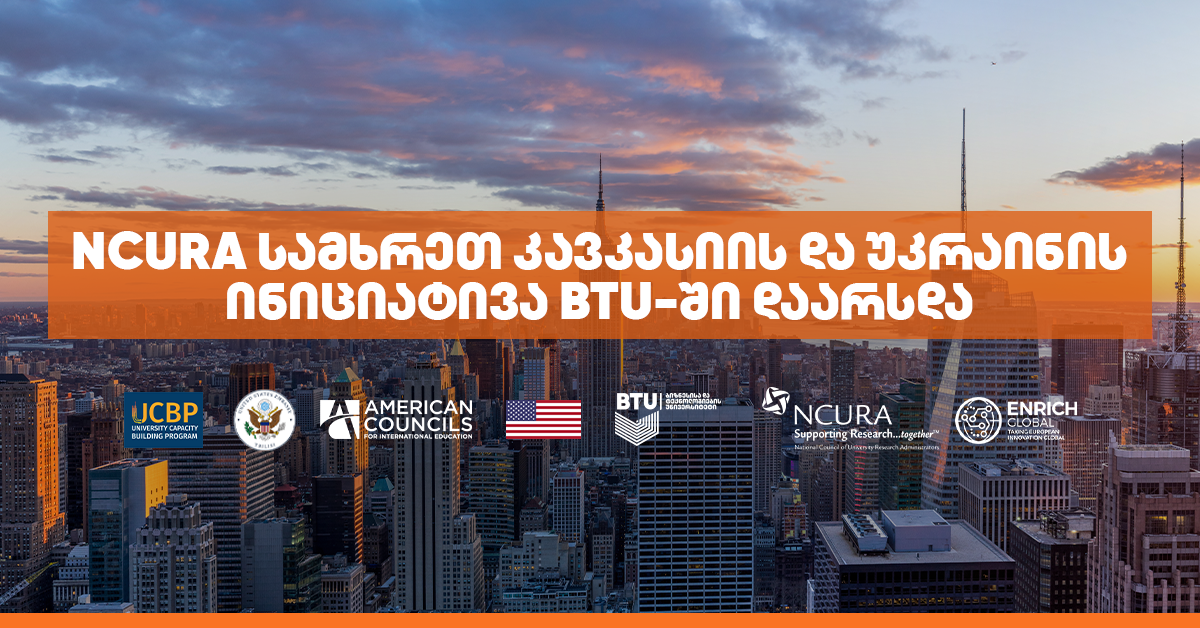 Business and Technology University (BTU) and National Council of University Research Administrators (NCURA) Announce Partnership towards NCURA South Caucasus and Ukraine Initiatives
Categories

News

Date

March 27, 2023
Tbilisi, Georgia and Washington, D.C.

BTU and NCURA have signed a Memorandum of Understanding (MoU) to strengthen the partnership between Georgian institutions and US institutions and to increase research administration capacity in South Caucasus region. This partnership is intended to share information and resources in research administration to reduce barriers in global research collaboration.
As a part of this partnership, NCURA South Caucasus and Ukraine Initiative will be launched by the Business and Technology University (BTU) with the guidance and expertise
from NCURA.
NCURA South Caucasus and Ukraine Initiatives will organize monthly educational and information sharing sessions in South Caucasus region, to support local research administrator's community in building networks, sharing knowledge, and strengthen leadership.
Kathleen Larmett, Executive Director of NCURA, stated, "Expanding the community of research administrators around the world will enhance and facilitate research collaboration for investigators to learn from each other.  This initiative will create a pool of talented individuals who will be able to interpret a multitude of various sponsor requirements and assist their institutions and countries to further their international research collaboration."
Prof. Dr. Nino Enukidze, BTU Rector, highlighted the importance of such collaboration for entire region – for academic community as well as entrepreneurs. Among other objectives, this
program will lead students and early-career researchers towards better research and commercialization skills.
This MoU is supported by the US Embassy Tbilisi University Capacity Building Program (UCBP). The program aims to foster an entrepreneurial culture at Georgia's higher education institutions, link practical research output to industry, increase innovation and economic growth to enhance the university-business-government triangle. UCBP is funded by the U.S. Embassy in Tbilisi and administered by American Councils for International Education.
The National Council of University Research Administrators (NCURA), founded in 1959, is a non-profit professional society dedicated to advancing the profession of research administration
through education and professional development programs, the sharing of knowledge and experiences, and the fostering of a diverse, collegial, and respected global community.
Business and Technology University (BTU) represents higher education and research unit that integrates business and modern digital technologies. Teaching, education, and research activities are held by consolidating students, academic staff and researchers.