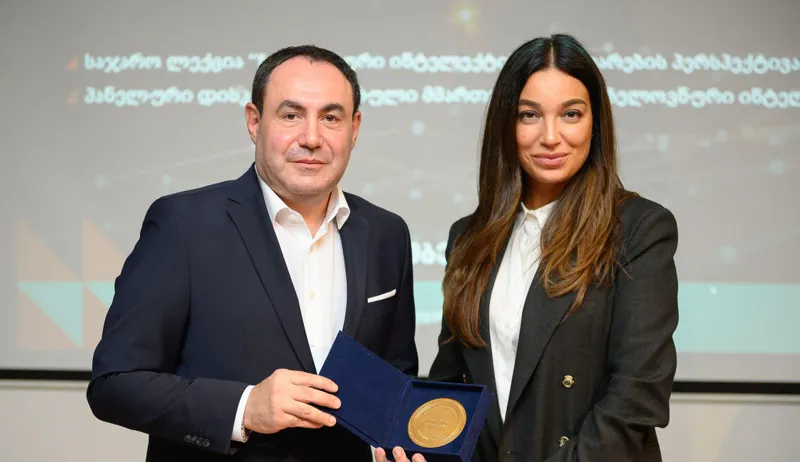 Irakli Beridze, director of the UN Center for Artificial Intelligence and Robotics, received an honorary BTU doctorate
Categories

News

Date

October 20, 2022
Irakli Beridze, director of the UN Center for Artificial Intelligence and Robotics, received an honorary doctorate from the "Business and Technology University". Irakli Beridze received the title, per the Academic Council's decision, for his role in Georgia's growth of BTU and the deployment of artificial intelligence policy.
Five candidates have already enrolled in the newly approved doctoral program in "Digital Governance and Artificial Intelligence in the Public Sector," which was actively created by him at BTU.
The program, which has only been conducted in BTU so far in European countries, aims to train a researcher in the field of public administration who will work in the direction of digital governance and digital policy and who will be able to develop it in applicable ministries or public agencies. 
It should be emphasized that Irakli Beridze's master class was held after he received the honorary doctorate, and he gave a quick overview of the history of the development of artificial intelligence as well as its function, context, and outlook. Following the panel discussion, which was led by Zviad Gabisonia, the director of the same program, participants in the PhD program introduced their research interests to the audience. Head of the UN Artificial Intelligence and Robotics Center Irakli Beridze, Chairman of the Sectoral Economy and Economic Policy Committee Davit Songhulashvili, Chairman of the Innovation and Technology Agency Avtandil Kasradze, and Chief Specialist of the Administrative Department of the Public Service Bureau Tea Samchkuashvili taken part in the discussion as well.