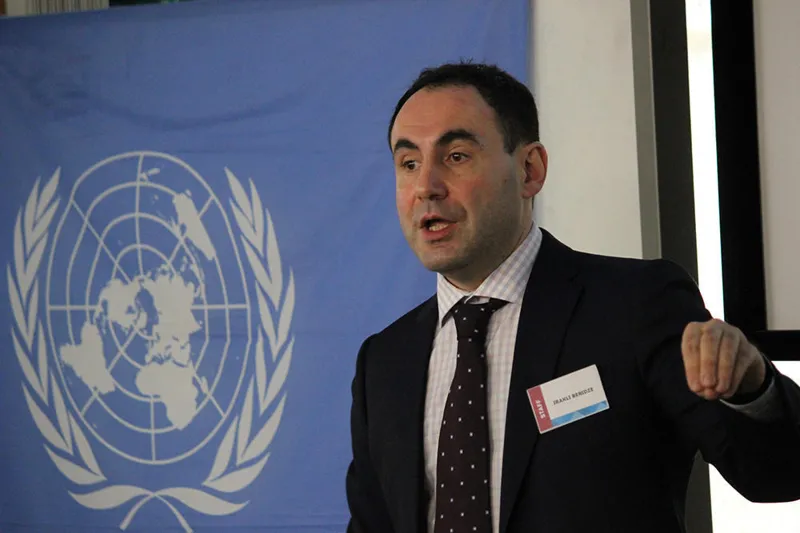 In Georgia, the director of the UN Center for Artificial Intelligence and Robotics (unicri) will conduct a public lecture
Categories

News

Date

October 19, 2022
Irakli Beridze, the director of the UN Center for Artificial Intelligence and Robotics, will present a public talk at the Business and Technology University on October 19 at 19:00. (Chavchavadze Ave. 82). The lecture's subject is "Perspective of Artificial Intelligence Development in Georgia."
Irakli Beridze has been in charge of the first UN initiative he started in the area of robotics and artificial intelligence since 2014. His name is connected to inciting and planning high-level events under the auspices of the UN General Assembly and other international organizations, coming up with collaborative solutions to address common threats/risks, and figuring out ways that AI can help the UN achieve its sustainable development goals.
Irakli Beridze is a participant in a number of working groups, including the High-Level Expert Group on Artificial Intelligence of the European Commission and the Global Council on Artificial Intelligence of the World Economic Forum. He also serves as a consultant to governments and international organizations on a variety of topics related to global security, scientific and technological advancement, new and emerging technologies, innovation, and the expanding potential of new technologies, particularly in relation to issues of security, criminal justice, and crime prevention.
It should be emphasized that Irakli Beridze will get the honorary doctorate degree from BTU in recognition of his unique contribution to the growth of Business and Technology University, according to the decision of the university's academic council.
Irakli Beridze's presentation will be followed by a panel discussion at the event on "Digital governance and artificial intelligence." Zviad Gabisonia, the director of the BTU research center and the program director for the doctoral degree in "Digital governance and artificial intelligence in the public sector," will moderate the debate.
It is essential to note that Irakli Beridze is also working to create the Business and Technology University new doctoral program, "Digital governance and artificial intelligence in the public sector." BTU is launching the mentioned Ph.D. program and is the first institution in European nations within it.