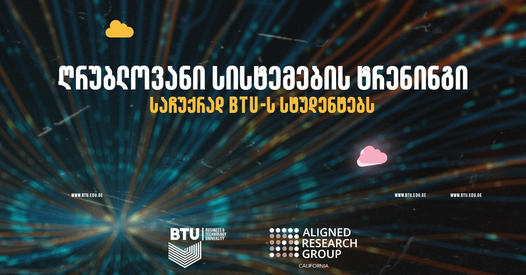 The American company ,,Aligned Research Group" will conduct cloud systems training for BTU students
The American company Aligned Research Group will conduct a 1-week training on cloud systems for students of the University of Business and Technology. The training for students is fully funded by BTU.
As explained at the university, the main part of their strategy is not only to offer students a curriculum designed for the curriculum but also to enable them to receive continuing education and to constantly offer the opportunity to attend various training or workshops.
"It is important for us that students be involved in various educational activities that will enable them to receive education in accordance with modern standards. In parallel with the training program, we often conduct training and workshops around current topics in the field. This ensures that students and alumni are aware of the latest trends and trends in the field. This time we offer cloud systems training to our students. The training will be conducted by Aligned Research Group, a leading American company in data science, "the university said.
Aligned Research Group is a California-based and fast-growing company specializing in data science. The American company has branches in Silicon Valley in the US, as well as in Germany and Portugal. Their solutions control global data traffic და and process more than 5 million requests per second. The company partners are EPFL, Samara Medical University and Yale.
The training from ,,Aligned Research Group" will be held on February 15-19. Students of the University of Business and Technology, who have a basic knowledge of computing principles and information technology, can register to attend. All participants in the training will be awarded a certificate by Aligned Research Group and BTU.