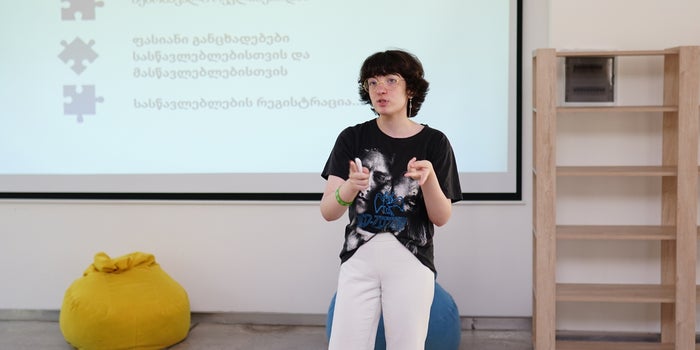 An annual student startup demo was held at BTU
Categories

News

Date

September 3, 2021
BTU Annual Student Startups Demo Day Winner, Startup  ,,300 STSAVLEBO."
With the best startup ideas, selected groups of students were presented to a partner jury.
Winning Startup – ,,300 STSAVLEBO."– A platform that connects student-teacher with each other. Also allows anyone who can teach to become member of ,,300 STSAVLEBO."
Teachers have the opportunity to upload their own courses and assignments to sell.
Student Startup Demo Day Jury Members:
TBC Startup and IT Academy – Nikoloz Kirkitadze

Accelerator of Tbilisi City Hall Spark – Goga Saatashvili

Startup Bureau – Guri Koiava

Sambrela – Davit Skhiladze
startups demo winner of the day, 300 stsavleblo handed
TBC Startup IT Academy – Individual Consultations

Tbilisi City Hall Accelerator Spark – Mentorship Program and Business Plan Development

Sambrela – promotional video

Startup Bureau – Tickets for all Startup Bureau events for all team members
In addition to the winner, the jury favorites were named:
Hall accelerator Sparky – 

hurt

 and 

visit

– mentorships program

TBC Startup IT Academy – 

Urigo

 – MVP

Startup Bureau – 

Visit

 – Tickets for all Startup Bureau events for all team members

Sambrela – 

TravelBud

 – Free Video Link