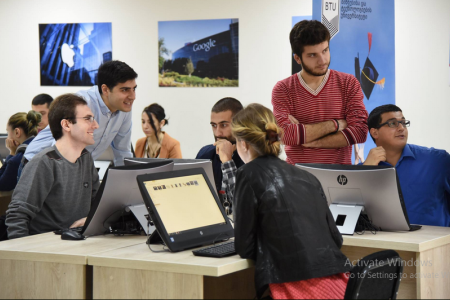 10 Million Vacancies Are Already Available
Categories

News

Date

June 29, 2017
Local and international, daily updated 10 million vacant jobs are already available for interested parties. Jobs that are meant to be done remotely include business administration and information technologies.
During the presentation session of employment international platform, media representatives met first employed persons and got information on planned training programs.
"From today, more than 10 million jobs are available for us. Interested persons can get involved in the base daily. We already have specific persons who work in the framework of this project. We believe than in near future, tens, hundreds and thousands of persons will have opportunity to perform the jobs for successful companies form out space. This is completely new opportunity for Georgia, for our economy, to create new work places and to find successful people that will be competitive not only in Georgia but on Global market as well", – said rector of Business and Technology University, Mr. Mikheil Batiashvili.
According to Zurab Babuadze who is the first person employed in the program, he gets orders from different global sites and works on graphic projects remotely.
"It can be difficult to perform order individually and gain recognition. With the help of the platform that is created on the base of the university, it becomes easier to get good contacts and take orders", – said Zurab Babuadze.
In addition, "Silicon Valley Tbilisi" expresses readiness to train interested people in case of need. Particularly, from October 15, "Silicon Valley Tbilisi" will start training programs. The university staff will train people in the most demanding areas related to digital technologies.
At the first stage it will be possible to study the necessary components for computer games, mobile applications, social media marketing and graphic design.