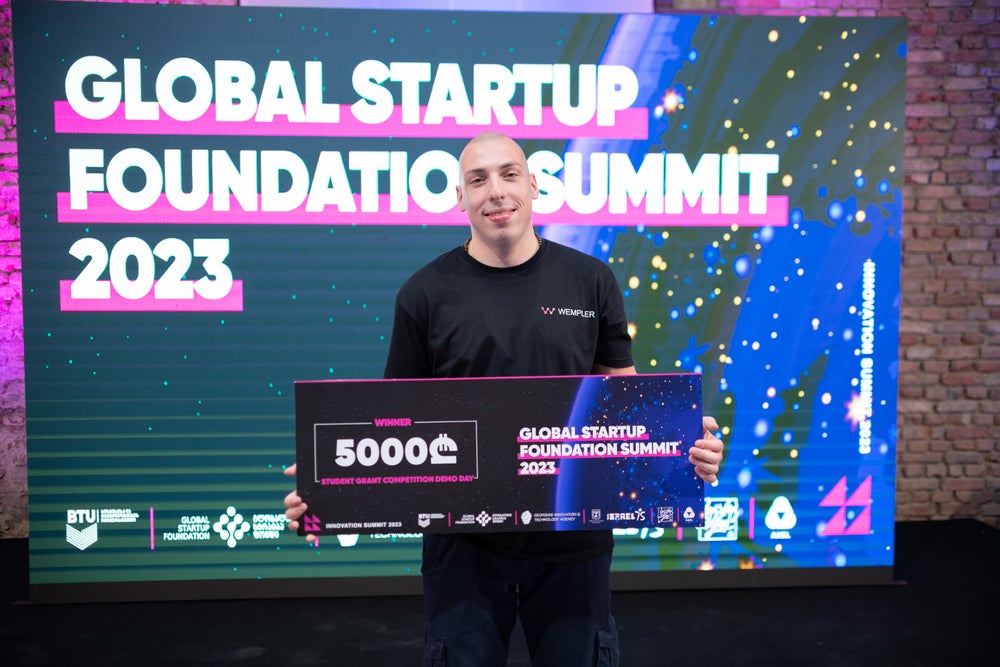 The finals of the BTU student startups grant competition were held within the innovation summit
Categories

News

Date

June 2, 2023
Organized by the University of Business and Technology, on May 31, the event of the annual initiative of BTU's global startup fund was held in Stamba Hotel, which, along with other interesting components, included the finals of the student startups grant competition and the so-called "Angel" organized a networking session with investors.
A 5,000 GEL grant in the form of Pre-Seed Funding was awarded to the student startup Wempler within the scope of the student startup grant competition. Wempler is an exclusive task delegation platform that helps users get a variety of one-time services, whether it's walking the dog, washing the car, or more. On the other hand, it allows service providers to earn money for their skills and time. Today, the Wempler application includes more than 50 categories of services.
"This victory is first of all the validation of the idea, which is the most important thing for a startup, apart from finances. Unfortunately, last year we could not win the said competition, so now we had a great motivation for the team to win. Therefore, this victory It is an additional incentive for us. We will use it to improve," Wempler founder Sandro Tavkhelidze notes.
Wempler has been on the Georgian market for a year now. Now the startup is trying to develop its activities in other big cities of Georgia – Batumi and Kutaisi. Their goal is to expand the business throughout the region by the end of 2023, starting with Uzbekistan and Kazakhstan.
The main partner of the student competition is the "Startuperia" program of TBC Bank. Student startups from all BTU programs took part in the competition, and 5 startups were selected for the final. The winner was selected by a specially invited commission. The commission was composed of the following persons:
Ana Totibadze, TBC
Ketevan Khuntsaria, Axel
Giorgi Gvasalia, Circle
Naino Kashibadze, Epam
The competition was held within the framework of the annual summit of the Global Startup Fund, which included a startup competition, a presentation of a bestseller book related to venture agreements, a panel discussion and a keynote speech by a guest who came to Georgia on a special visit for the said summit.