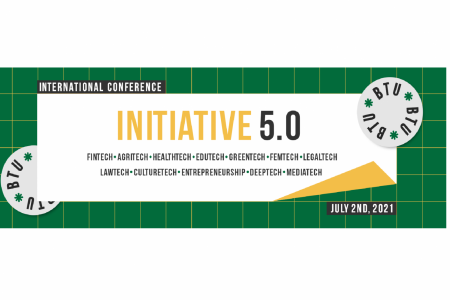 International Conference "Initiative 5.0"
Categories

News

Date

May 25, 2021
The International Conference "Initiative 5.0" will be a hybrid series of the events held from June 28th to July 2nd, 2021, at the Business and Technology University (BTU) located in Tbilisi, Georgia. The international online conference and panel discussions will be attended by researchers from international partner universities, Government officials, representatives of international associations and organizations, and other stakeholders around the world.
The conference aims to share international expertise and the latest trends, achievements, or research results in all sectors that contribute to the development of the digital economy in Georgia.
According to the BTU's Strategic Development Plan, the University aims to participate in the development of Georgia's digital economy, integrate technology in various business sectors, promote sustainable development, and support the country's innovative ecosystem.
Accordingly, BTU is actively planning and purposefully initiating various large-scale technology projects and activities with the involvement of local and international partners, which is united under the name "Initiative 5.0" and includes the following main strategic areas: Female Technologies, Media Technologies, Law and Legal Technologies, Financial Technologies, Educational Technologies, Cultural Technologies, Healthcare Technologies, and Green Technologies.
The Covid-19 pandemic has once again proved how important international cooperation is for each country's educational and economic development, in which education and science play a major role, as both contribute to the uptake of 21st-century global trends.
International Conference "Initiative 5.0" is a 5-days-long conference – 4 days are dedicated to on-site panel discussions which will be finalized with the International Online Conference on the last day – July 2nd, 2021. The online Conference (platform: Zoom) will be organized in collaboration with the Academic Consortium of European Marketing and Management Association (EUMMAS).
If you are a local and/or international researcher, student, lecturer or an individual interested in any of the sectors covered by the "Initiative 5.0" or in economics/management, you are kindly invited to attend our conference. Please register at this link by June 16th.
If you are an international researcher in any of the sectors covered by the "Initiative 5.0" or in economics/management, you are invited to present your publication at the Cumulative International Online Conference on July 2nd, and contribute to promoting international collaboration by sharing your expertise. Please register at this link and submit your research abstract by June 20th.

---
Agenda
June 28th
Digital Economy – 11:00 – 14:00
Green Technologies – 15:00 – 16:15
June 29th
Healthcare Technologies – 11:00 – 12:30
Agricultural Technologies – 14:00 – 15:15
June 30th
Legal Technologies (LegalTech) – 11:00 – 12:30
Education Technologies (EduTech) – 14:00 – 15:30
July 1st
Media Technologies and Cybersecurity (MediaTech & Cybersecurity) – 11:00 – 12:00
Culture Technologies (CultureTech) – 13:00 – 14:15
Female Technologies (FemTech) – 15:00 – 16:15
July 2nd
Cumulative International Online Conference in collaboration with EUMMAS – 15:00 –  17:00