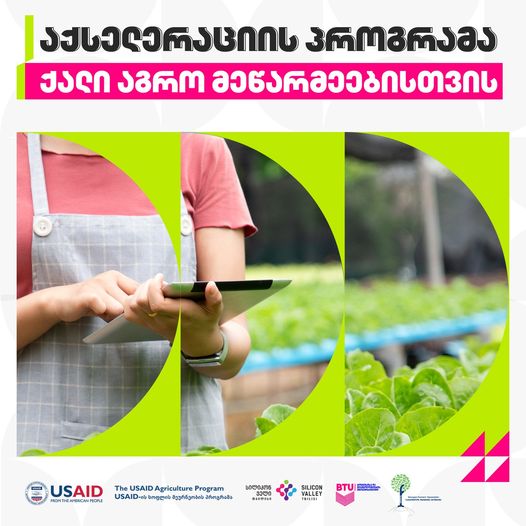 With the involvement of BTU, an acceleration program for female Agro-entrepreneurs is starting
Categories

News

Date

September 6, 2022
Silicon Valley Tbilisi is starting an acceleration program for female agro-entrepreneurs with funding from USAID in collaboration with the Farmers' Association, the University of Business and Technology, and other partners. Eastern Georgia will host the program, which is open to females ages 18 to 42. They had to have experience in the agriculture industry and be enthusiastic about using contemporary technologies in their own work in order to participate.
In Eastern Georgia, a total of 30 beneficiaries will get two phases of Agri-tech training.
Beneficiaries of the program will gain a deeper understanding of the following topics: entrepreneurship, startup, entrepreneurial/startup environment in Georgia, ways to a business idea, presentation of an idea and resources needed for implementation, priority directions of the agri-sector, digital technologies in agribusiness, artificial intelligence in agribusiness, food safety and standards, e-commerce, access to finance, Budget preparation, marketing strategy, branding, in addition to other topics that will be determined later on.