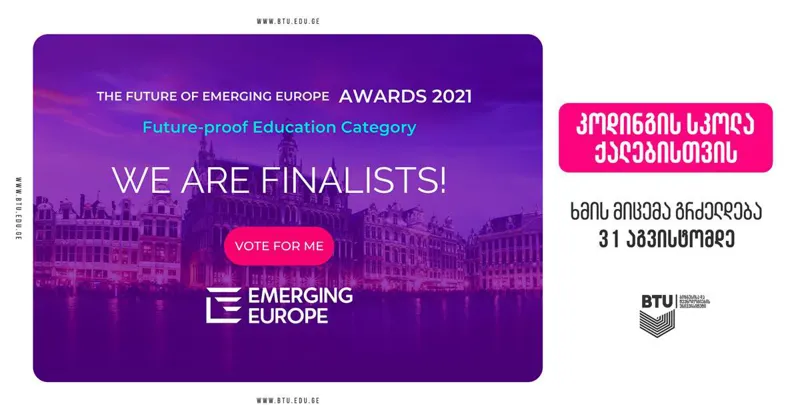 Coding School is among the three finalists in the Emerging Europe Awards! Vote for Georgia!
Categories

News

Date

September 3, 2021
After winning the Grace Hopper Award, the University of Business and Technology program at the Coding School is among the three finalists in the international competition Emerging Europe Awards 2021.
The Emerging Europe Awards are held annually and this year, for the first time, Georgia, the BTU Coding School Future-proof Education 2021 has reached the finals.
Coding School for Women was founded 2 years ago at BTU.
Empowering Women in Technology, Free Nationwide Courses in Programming Languages, Improving Country Statistics, Employing Women in Technology Industries, Improving Digital Literacy, and Supporting Women Programmers in the Femtek Sector The school for women will be run with partners as part of the project.
Partners include local and international companies and organizations, public and private sector: US Embassy in Georgia, UN Women, Georgian Agency for Innovation and Technology, Business Listers Women for the Future, Liberty Bank, TBC, Microsoft, Women in Tech Global Movement, International Technology Centers Webiz and Strategeast.
Coding School for Women Beneficiaries of the project have the opportunity to study: Front-end Development, Back-end Development, UI / UX Design, Artificial Intelligence & Machine Training, Data Analysis, Universal Personnel Program (iOS Development, UI / UX Design, Financial Management), Tester et al.
At the initiative of BTU, activities such as:
Employment Forum for Beneficiary Women, with the participation of local and international companies, Ideaton, regional workshops, accelerations, production of podcasts, multimedia materials, research and panel discussions, webinars.
With the involvement of the University, the representation of the international organization Woman in Tech in Georgia was established in 2020.
The University of Business and Technology, in collaboration with WIT, is implementing projects and activities that help create a variety of opportunities for women in the field of technology.
Emerging Europe Awards 2021 competition boat P-Li-Te-bis vote on line, August 31, after the link-on
How to support Georgia and the program coding school?
1. Find the category – Future-proof Education and select The Coding School for Women
2. Enter your data
3. Indicate that you agree to the terms of Emerging Europe
4. Finish voting