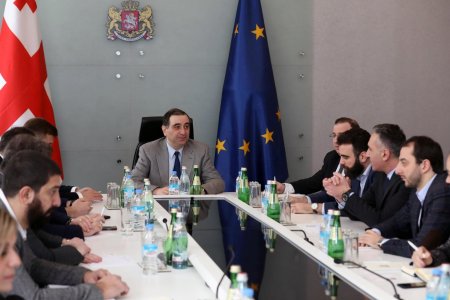 The First IT Higher Professional Education College Will Be Established in BTU
Categories

News

Date

February 14, 2018
Education and Technology Council Meeting was held on February 13 under the guidance of the Minister of Education and Science, Mikheil Chkhenkeli, at the Ministry of Education and Science of Georgia.
Mikheil Batiashvili – Rector of the Business and Technology University, Irakli Meurunishvili – Parliamentarian, Mariam Jashi – Chairman of the Education, Science and Culture Committee of Parliament of Georgia, and Technological Companies – Hewlett Packard Enterprise; IBM; Splunk-NGT Group; Microsoft and others. Representatives attended the meeting.
The Council discussed specific steps to develop academic activities for modern information technologies.
The rector of the Business and Technology University presented the project "Unified Digital Platform for Education" to the members. The platform is designed for higher professional education colleges, as well as universities and private individuals.
It is equipped with modern technologies and advanced text and video study materials.
According to the decision of the Board, the Business and Technology University will be established the first IT Higher Professional Education College, which graduates will be employed at high-paying positions in international and local organizations.
International high-tech companies presented in the Council will be involved in the implementation of study programs.
The aim of the Education and Technology Council is to improve the quality of education on the basis of cooperation with international technological companies and relevant educational institutions.