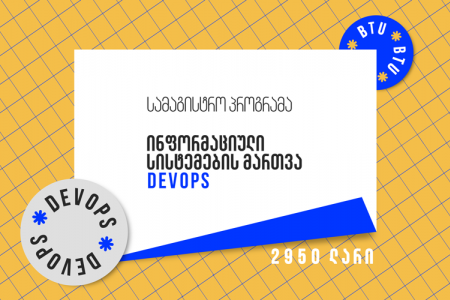 DevOps – Master of Information Systems
Categories

News

Date

November 26, 2020
Management of information systems – DevOps
Awarded academic degree and qualification: Master of Information Systems
Program size: 120 credits (ECTS)
Program fee: 2950 GEL
Program Status: Accredited
Business and Technology University introduces a unique master's program in the region. Management of information systems DevOps is one of the most demanded positions in the field of technology worldwide, and its teaching will be held in Georgia for the first time within the academic program at BTU.
Information Systems Management DevOps program aims to train professionals with in-depth knowledge of information technology, software engineering, automation and operating systems. The program is relevant to the extent that DevOps specialists, in addition to technology implementation capabilities, are responsible for automating business processes to improve operations, which is a growing trend worldwide. DevOps engineers design and manage the IT infrastructure and provide customer support. They can collaborate with security and operations groups to improve the security of the company's infrastructure.
---
The program will prepare a Master of Information Systems, for which it will be offered:
Technological labs;
CO-WORKING spaces;
Employment programs;
Exchange programs;
Highly qualified academic staff;
Close connection with industry;
NETWORKING events, competitions and more. ;
International projects;
Extracurricular activities.
---
Leading companies such as Amazon, Netflix, Adobe, Sony Pictures, Target, Walmart, Facebook, Etsy, Nordstrom, Fidelity Worldwide Investment are growing DevOps groups.
---
---
Admission to the program will take place in the 2021-2022 academic year, as a result of common master's and internal university exams. Top management of large organizations in the technology sector, professors with international experience and invited lecturers from DevOps departments of companies are involved in the implementation of the program.
Graduates of the program will be able to find employment in leading information and communication companies, financial institutions, banking and insurance sectors, industrial, telecommunications, communications and transport companies, computer and electronics trade and service companies, and also in organizations where centralized data processing is carried out. In addition, graduates of the program will have the opportunity to be employed in law enforcement structures, public departments, emergency management centers, security, intelligence and other special forces. in services.
For more information about the program, see the link.
Candidates interested in the program are registering at the link.