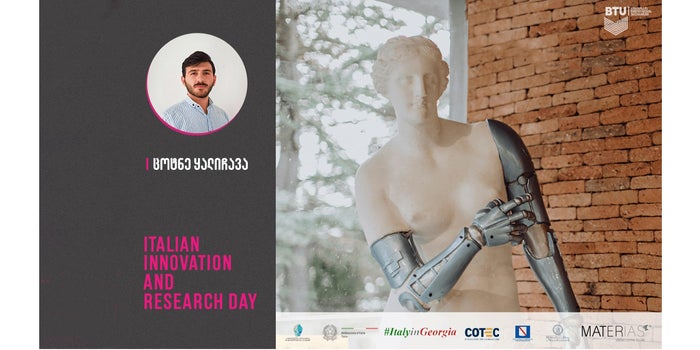 BTU student has won the STEM STUDY VISIT TO ITALY competition
Categories

News

Date

September 3, 2021
The winner of STEM STUDY VISIT TO ITALY 2021 became Tsotne Kalichava, Master of Business and Technology University.
On June 10, the Embassy of the Italian Republic organized an award ceremony for the STEM Study Visit to Italy, a large-scale event dedicated to the Italian Innovation and Research Day.
In cooperation with the Italian Innovation Fund, COTEC and the Georgian Innovation and Technology Agency, 2 winners were identified – Tsotne Kalichava and Irina Tsagareishvili. The winners of the competition will undergo a 3-month fully funded study visit to the Fabritech Division and Internationalization Department of the Italian SPICI srl.
BTU set up additional prizes for the winners and introduced special support mechanisms:
The winners received a job offer: after returning from the study tour, to collaborate within the semester Startup Bootcamp organized by the Entrepreneurship Center;

To facilitate the entrepreneurial activities of the winners, BTU allocates workspace and provides gifts through various services: marketing services, legal services, financial services, communication with international venture funds;

The winners were awarded a Georgian-language bestselling guide, MIT Entrepreneurship, 24 Steps to Creating a Successful Startup, translated into Georgian.
"About 2 weeks ago, I received a message from one of my lecturers, who is making a great contribution to this challenge. I did not hesitate, I immediately found the necessary documents. While writing the cover letter, I realized more and more what a unique opportunity I was facing. First of all, thanks to the parties involved, BTU, GITA, COTEC and all stakeholders for giving Georgian youth the opportunity to develop.
This study visit to Italy, I think, will help me in my professional formation, internationalization and development. "On behalf of the home university (University of Business and Technology), it is essential to be constantly studying and researching to keep up with the pace of global technology development," said Tsotne Kalichava, winner of STEM STUDY VISIT TO ITALY, who is also an Erasmus Fellow. He has just successfully completed a fully funded study exchange semester using his partner at the University of Business and Technology – Koblenz at the University of Science (Germany).