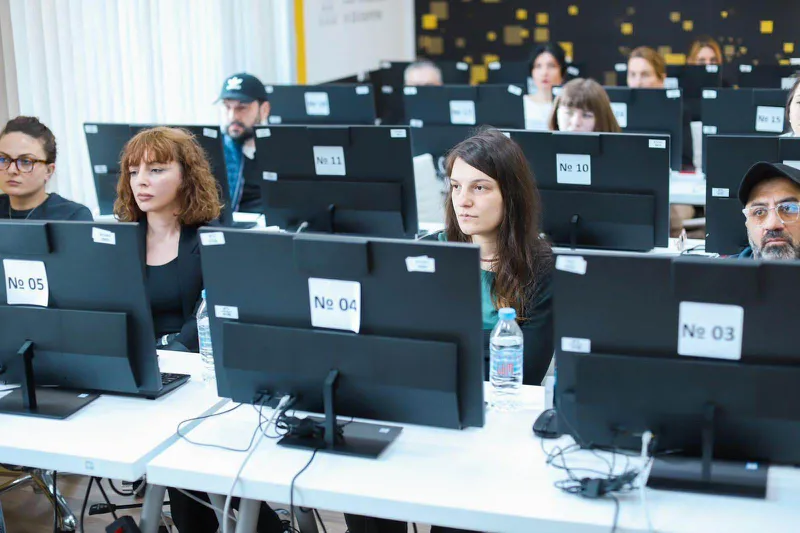 The training of journalists of the 1TV in the direction of AI was carried out by BTU
Categories

News

Date

May 5, 2023
Trainings in the direction of AI for the 1TV team were carried out by the University of Business and Technology. Training modules were held for journalists, media managers and executive management, to whom university trainers taught the use of artificial intelligence in daily activities and in the process of making strategic decisions. Among the participants were social media management employees, reporters, graphic designers, researchers, editors and representatives of other departments.
The training covered the history of artificial intelligence, its use in everyday life, techniques for asking questions with ChatGPT, creating content with the help of artificial intelligence for both marketing purposes and social media, as well as using ChatGPT for conducting research, creating visual material, ethics of AI, limitations etc.
The training participants received detailed information on how they can use this technology to simplify their work and achieve better results. After receiving theoretical information, they had the opportunity to create the desired products themselves with the help of artificial intelligence.
The training was planned and conducted within the framework of BTU AI LAB.  Business and Technology University is actively involved in the process of promoting the sectoral integration of artificial intelligence in Georgia, in its development and increasing availability. Within the framework of the BTU AI concept, a variety of products are already being created and implemented in various processes. These include: educational resources, analytical studies, syllabi, books, articles and publications, training and study materials, as well as graphic works and many other products.