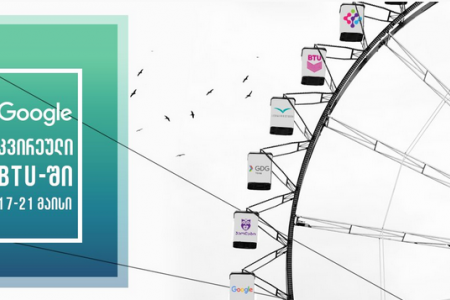 Google days at BTU
Categories

News

Date

June 29, 2017
Google Days will be held on May 21, in Business and Technology University of the Silicon Valley Tbilisi, within the framework of i/o Extended event.
This annual event aims to introduce conclusive report for the previous year, present new product and share future trends.
Organizers are: Silicon Valley Tbilisi, Google Developers Group (GDG) Tbilisi, Advertising Agency "Leavingstone" and Geolab. The event will include: the live broadcast from annual i/o Extended event in California; discussion of Google products and new opportunities, 2-days competition for developers, programmers, startuppers and all who is interested in technologies – Silicon Valley Tbilisi Challenge.
Schedule:
✔ May 17:
➸ 20:00 opening
➸ 21:00 i/o Extended Google Keynote live broadcast from California
✔ May 18:
➸ 18:30 Leavingstone – Google Ads
➸ 19:30 i/o Extended live broadcast from California AMP Ads: Better Advertising on a Faster Web
✔ May 19:
➸ 12:00 – EXPO of digital enterprises
➸ 15:30 – CodeLab Workshop
➸ 17:30 – Google Products
➸ 18:30 – Google Firebase
➸ 19:30 – i/o Extended live broadcast from California: Machine Learning and AI (how to accelerate your app with AI)
✔ May 20
➸ 09:00 – Silicon Valley Challenge
✔ May 21:
➸ 09:00 – Silicon Valley Challenge