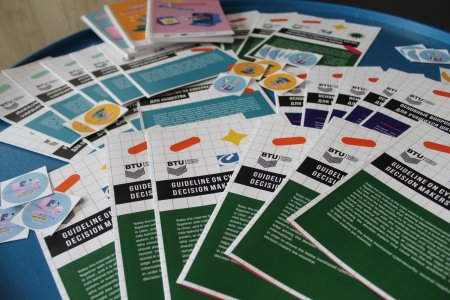 "Safer Internet and Cyberhygiene" | Giorgi Iashvili
Categories

News

Date

April 26, 2021
Within the framework of Jean Monnet PEU-C-E ("Promoting European Union's Cyber Education") project, funded by European Commission, on April 15th,  BTU hosted the on-site event/workshop for schoolkids: "Safer Internet for Children".
Speaker: Expert Giorgi Iashvili
31 persons/schoolkids attended the on-site event at BTU premises. All necessary safety measures were introduced in response to Covid-19 regulations. The invited speaker targeted key questions in cyber hygiene, and tackled specific challenges on understanding cyber security threats and their potential impact on children.
PEU-C-E – "Promoting European Union's Cyber Education" is a Jean Monnet project jointly developed by Business and Technology University and Caucasus University in Georgia. The aim of the project is to share European experience in cyber education among students, teachers, parents, professors and decision makers with a goal to create safer internet for vulnerable young people.