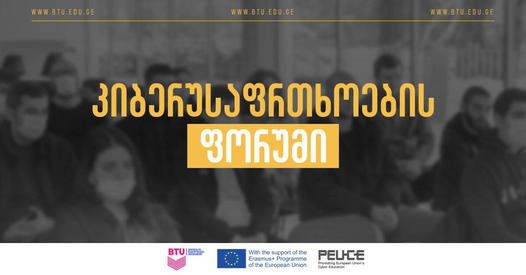 EU-supported cybersecurity forum held at BTU
Categories

News

Date

May 19, 2022
BTU hosted a large-scale cybersecurity forum as part of the EU-funded Jean Monnet project. The forum was held on March 22-23 in several sessions in a physical format.
As  Head of International Relations and Development at the Business and Technology University explains, the two-day forum was the final event of the EU-funded Jean Monnet PEU-C-E project.
A total of 6 sessions were held at the event, and the total number of participants was 224 people.
PEU-C-E – "Promoting European Union's Cyber Education" is a Jean Monnet project jointly developed by Business and Technology University and Caucasus University in Georgia. The aim of the project is to share European experience in cyber education among students, teachers, parents, professors and decision makers with a goal to create safer internet for vulnerable young people.
The program of the forum was quite varied and interesting. Speakers were representatives of leading local and international companies:
EU Cybersecurity Strategy – Speaker: Expert Giorgi Iashvili, Executive Director of the Georgian Information Security Association (GISA);
Safety of Children and Youth in the Online Space – Speaker: Professor Andro Gotsiridze, Founder of CYSEC Cybersecurity Educational Research Center;
Cyber ​​Hygiene and Ethical Hacker, Speakers: Prof. Maxim Yavich, Prof. Georgy Iashvili, Caucasus University;
Georgia Cyber ​​Security Perspectives – Speaker: Luka Mgeladze, Director of the Cyber ​​Security Bureau of the Ministry of Defense of Georgia;
Cybersecurity Innovations – Speaker: Mikhail Basilaya, founder of Cyberhouse;
Disinformation and Cybersecurity – Speaker: Gogita Gvedashvili, Director of Strategic Communications Program / Deputy Director of GCSD, Georgian Center for Strategy and Development