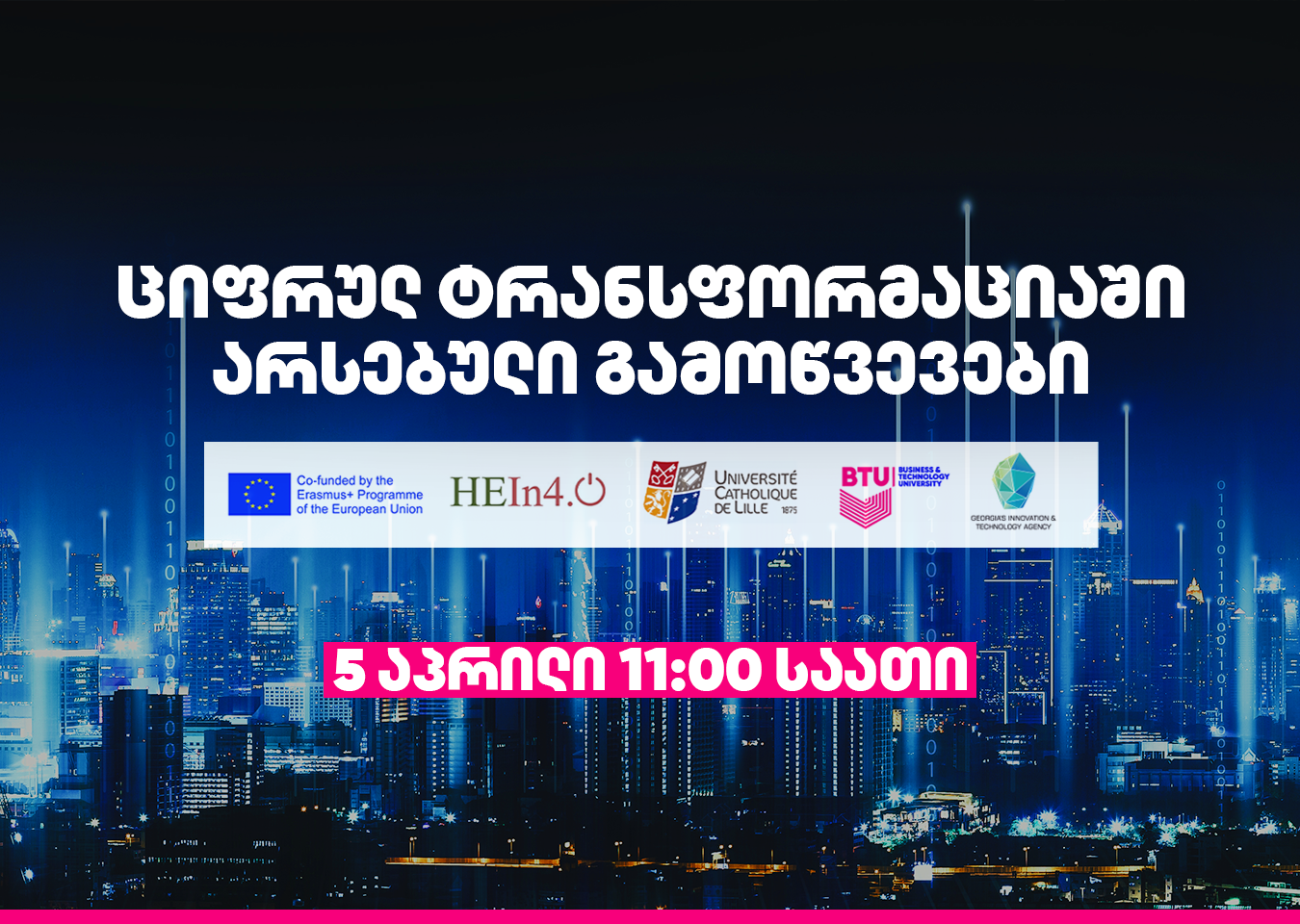 BTU continues to implement the activities of HEIn4, one of the largest Erasmus+ institutional development projects funded by the European Union.
Categories

News

Date

April 10, 2023
Within the framework of Erasmus+ CBHE Hein4 project, on April 5 th , 2023, Business and Technology University in collaboration with Georgia's Innovation and Technology Agency, KU Leuven and Lille Catholic University (France), organized a significant remote event for startups, industrial partners, members of the entrepreneurial ecosystem of Georgia and Ukraine, and all other interested parties to discuss the challenges in digital transformation.
Distinguished professors from KU Leuven (Belgium) and Lille Catholic University (France) shared their insights on the Digital Transformation Gaps in Industry 4.0. The event provided detailed information about the 4th industrial revolution, along with European experiences and challenges related to it. It was an excellent opportunity for those interested in digital transformation to gain valuable knowledge and insights from experts in the field.
"Boosting the role of HEIs in the industrial transformation towards the Industry 4.0 paradigm in Georgia and Ukraine" (HEIn4) – project aims at solving the identified problem of disproportion between the availability of technologies relevant to Industry 4.0 and the lack of experience in Georgia and Ukraine in re-setting the business model of an enterprise in order to enable comprehensive utilization of the opportunities arising under emerging paradigm of the new Industrial Revolution.
Project Partnership:
EU
Katholieke Universiteit Leuven, Belgium
Instituto Politécnico do Porto, Portugal
Kungliga Tekniska Högskolan, Sweden
Volvo Cars Gent, Belgium
Georgia
Business and Technology University
Akaki Tsereteli State University
Batumi Shota Rustavelli State University
Georgia's Innovation and Technology Agency
Ukraine
Ukrainian State University of Science and Technologies
Donetsk National Technical University
Lutsk National Technical University, Ukraine
Odessa I.I.Mechnikov National University
Enterprise "Festo"