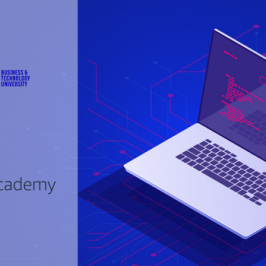 Amazon Web Services (AWS) Academy is a partner of the Business and Technology University
Categories

News

Date

September 15, 2021
Business and Technology University has become a partner of the AWS Academy. Cooperation is unprecedented not only in Georgia but also in the region. AWS Academy is not a partner of any other accredited institution in the region at this time. Students of the BTU DevOps Master's Program will benefit from the services and support of the AWS Academy. This innovation will give them special opportunities for professional development and successful employment.
AWS Academy offers comprehensive training services on cloud services to partner companies and opens access to labs. Students will be able to receive certificates evaluated and recognized at the highest level by the sector.
Nino Gvazava, Head of DevOps Master's Program at BTU, explains that a good knowledge of cloud technologies is essential among DevOps specialists.
"AWS Academy Certificate is exactly the qualification that employers pay the most attention to globally, including in Georgia. In the field of cloud services, this is a very good opportunity to increase competence and get quality knowledge. AWS Academy partner, accredited learning institutions receive the latest training materials on cloud services. For our students, this collaboration is important for several reasons: they will have access to the latest information and access to the latest learning materials; They will have access to the labs and will benefit from discounts on certification exams, "Nino Gvazava explained.
According to him, the Business and Technology University has active direct communication with the AWS Academy. If the university needs any kind of help to implement the program at a high level, it will receive it directly from the AWS Academy. Accordingly, the course will be as perfect as possible.
According to various studies, a high level of knowledge of cloud services is the number one requirement of employers. Moreover, according to Global Knowledge, the AWS Certificate was ranked second in the top ten highest-paid certifications in 2020. It is in response to these requirements that AWS Academy creates a high-level curriculum that is standardized for all partner institution students and offers them equally high opportunities.