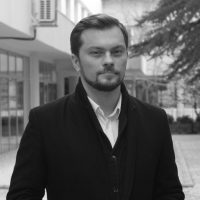 Davit Chkotua
Assistant Professor of BTU, Master of Public Relations Davit Chkotua is delivering lecture on a public relations.
Has undergone trainings, is a Google certified specialist in digital marketing. He also holds the following certificates: Certificate of NATO Public Affairs in Oerations Course NATO School Oberammergau 2019 2.
Certificate of NATO Public Affairs Policy Indoctrination Course. He has completed professional training courses in Georgia and abroad. Has experience working in public and business sectors.
David speaks English and Russian languages.