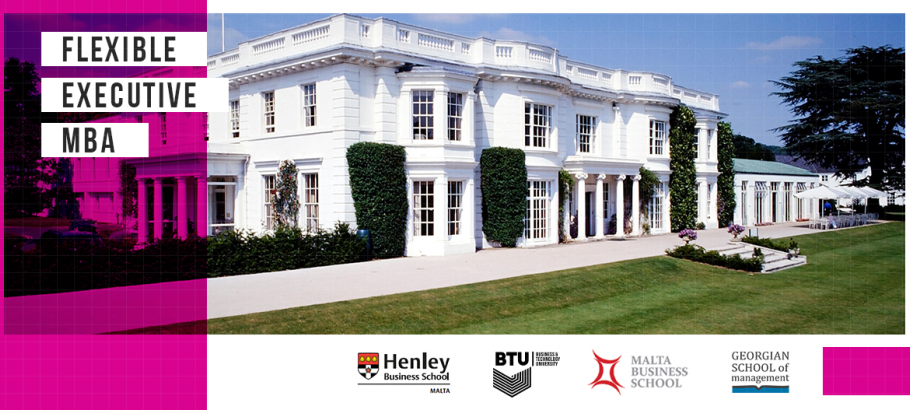 Henley Business School Flexible Executive MBA

HENLEY FLEXIBLE EXECUTIVE MBA

The Henley Flexible Executive MBA programme delivered from Georgia is a blended learning programme.

One of the highest ranked universities in Great Britain, Henley Business School starts partnership with BTU.

Founded in 1945, Henley was the first business school to be established in the UK and is one of the oldest and most respected schools in Europe;


The Henley Flexible Executive MBA – ranked as #3 in the UK, #33 in the world (ranking) is an intense and rewarding experience, offering new opportunities and challenges.


Henley Business School is implementing a program with Business and Technology university, Georgian School of Management and Malta Business School.


ABOUT UNIVERSITY:

henley business school is one of the 75 universities in the world to hold triple-accredited status from the leading UK, European and US accrediting bodies: AMBA, EQUIS and AACSB.
Despite the constant changes of university ratings, Henley remains a world leader, and henley's graduates take positions of top managers in the world's mega-corporations.

Information about triple-accreditation: https://www.henley.ac.uk/about-us/accreditations


Rated by world leading rating systems:



• The First Stage relates to the internal management of an organization, focusing on specific areas of management like people, processes and finance.

•

The Second Stage relates to business choices - a critical aspect in every manager's life, presenting insights in global environment and strategic direction, strategic marketing and reputation and responsibility touching also on governance aspects.

•

The Third and last Stage of the journey will help transform you into a manager who makes a difference. Here you deal with leadership and change as well as how, as a manager, you build knowledge and apply it in a management role.
Programme strengths:
Henley is one of triple-accredited 75 business schools in the world, Henley Business School's reputation in the world, alumni network impact of large corporations, the programme structure flexibility and its compatibility with the work of Henley Business School teaching staff qualifications and practice orientation, Unprecedentedly low price compared to other similar programs, the possibility of passing modules into different campuses, competitiveness and sustainability, which is distinguished by Henley Business School in the world.
Program Implementation Format:


Students have to travel to the UK once at the start of the programme (24, 25 & 26 October 2018 ). This is compulsory. This workshop is held at Henley Business School, Greenlands campus. Henley Business School UK workshop includes accommodation and meals – Travel expenses are not financed.
Students will attend workshops in Georgia, and also several workshops in Malta, this is compulsory.
For seminars held at Henley Malta campus, the school offers accommodation services, which will be paid directly by students.
• Workshops are scheduled approximately once every two months.
• The awarding institution is Henley Business School.

Duration Of The Programme And Awarded Diploma:

The Flexible Executive programme is 2.5 years long and is implemented in three stages. Each Stage is 10 months long. Each stage includes different modules, The intensity of each module is two months. The awarding institution is Henley Business School.
Henley Flexible Executive programme entry requirements:

Our selection process is specially designed to identify talent and leadership potential and ensures that we bring together the best combination of experienced people. This is reflected in our application requirements. However non standard applications are reviewed for suitability.

Minimum of three years experience in managerial position Bachelor's degree or minimum 5 years experience in top management without Bachelor's degree;
A document certifying the knowledge of English, or a certificate from the work place about full knowledge of language;
Programme Fee:
Full Program Fee is: 17,500 euro.
More information about programme structure and Henley University is in attached files.
If you are interested in the program, please fill out the registration form.

if you have any questions please contact us at anna.kapanadze@ec.sommet-education.com